Posts for: December, 2018
By More Smiles of Beverly
December 08, 2018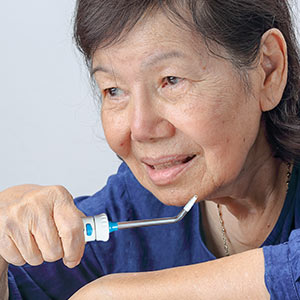 The most important part of dental health maintenance isn't what your dentist does—it's what you do every day when you brush and floss your teeth. And all you really need is a multi-tufted, soft bristle toothbrush, toothpaste, a roll of dental floss—plus a little effort from your hands and fingers.
Of course, manual power isn't your only option—an electric or battery-powered toothbrush is a convenient and, for people with strength or dexterity issues, a necessary way to remove disease-causing plaque from tooth surfaces. You have a similar option with flossing—a water flosser.
Although water flossers (or oral irrigators) have been around since the early 1960s, they've become more efficient and less expensive in recent years. A water flosser delivers a pulsating stream of pressurized water between the teeth through a handheld device that resembles a power toothbrush, but with a special tip. The water action loosens plaque and then flushes it away.
While the convenience these devices provide over traditional flossing is a major selling point, they're also quite beneficial for people with special challenges keeping plaque from accumulating between teeth. People wearing braces or other orthodontic devices, for example, may find it much more difficult to effectively maneuver thread floss around their hardware. Water flossing can be an effective alternative.
But is water flossing a good method for removing between-teeth plaque? If performed properly, yes. A 2008 study, for example, reviewed orthodontic patients who used water flossing compared to those only brushing. The study found that those using water flossing were able to remove five times as much plaque as the non-flossing group.
If you're considering water flossing over traditional flossing thread, talk with your dental hygienist. He or she can give you advice on purchasing a water flosser, as well as how to use the device for optimum performance. It could be a great and more convenient way to keep plaque from between your teeth and harming your dental health.
If you would like more information on water flossing, please contact us or schedule an appointment for a consultation. You can also learn more about this topic by reading the Dear Doctor magazine article "Cleaning between Your Teeth: How Water Flossing can help."
By More Smiles of Beverly
December 04, 2018
Could this tooth-colored shell reshape and revamp your smile for the better?
Is your smile making you feel self-conscious? Do you hate that small gap between your front teeth or that your smile looks uneven? While your teeth may be healthy maybe the overall shape of your smile just isn't as perfect as you would like it to be; perhaps one or more teeth even stick out from the rest. If this is the case, our Chicago, IL dentist Dr. Ademola Adekola Jr. has a simple cosmetic solution that could fix these common complaints.
Dental veneers, thin porcelain shells that cover the front portion of your teeth, are amazingly versatile. They are able to alter everything from the length and size of your teeth to the color and alignment. If you want to make several changes to your smile, often times, veneers are the best way to do it. Some of the issues dental veneers can improve include:
Stains and discolorations
Chips and cracks
Misshapen or poorly shaped teeth
Uneven or worn teeth
Gaps between teeth
Slightly overlapping or twisted/crooked teeth
If you are dealing with any of these issues above our Chicago cosmetic dentist can help you get the smile you want. When we examine your smile we will also sit down with you to discuss your treatment goals to make sure that veneers can provide you with what you are looking for. Besides the cosmetic imperfections you are looking to treat there are other factors that can affect your candidacy including,
Your oral health: Before you can get any cosmetic dentistry we will need to know that your teeth and gums are healthy enough for treatment. This is the reason we perform an oral exam during your consultation. We will look for decay, cavities, gum disease or other issues that will need to be treated before you can get veneers.
The strength of your teeth: Teeth will also need to be able to support your dental veneers, so there needs to be enough healthy tooth enamel. After all, to make room for your veneers we will need to shave down a very small amount of enamel from the front of your teeth; therefore, teeth that are extremely worn down due to teeth grinding may not be right for veneers.
Certain habits: Do you bite your nails or use your teeth as tools? Are you a jaw clencher? If you said yes to any of these things then you may not be ideal for veneers. While veneers are extremely durable even porcelain can break or chip if you aren't careful. Biting your nails or using your teeth as scissors can damage your new restorations.
Here at More Smiles of Beverly in Chicago, IL, we are dedicated to providing you with the comprehensive dentistry you deserve. No matter whether you need to schedule a routine cleaning or you want to find out if you're an ideal candidate for dental veneers, call our office today to schedule your next visit.