Posts for: January, 2019
By More Smiles of Beverly
January 17, 2019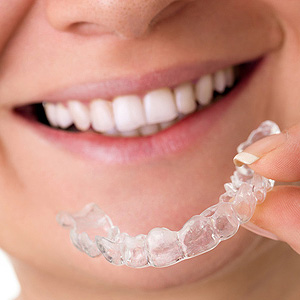 Wearing braces isn't just for teenagers — straightening teeth can be just as viable a need when you're an adult. For example, it may be necessary to first move teeth away from an empty tooth socket before you obtain a dental implant or other restoration.
But braces could have complications, especially if you have periodontal (gum) disease. These infections caused by plaque, a thin film of bacteria and food particles, inflame and weaken gum tissues and erode supporting bone. It can be treated and brought under control — but keeping it under control requires daily brushing and flossing, along with frequent office cleanings and checkups.
Braces can make this more difficult: it's harder to brush and floss effectively through the hardware of brackets and wires, which can give plaque a chance to build up. Patients susceptible to gum disease are more likely to have re-infections while wearing braces. The hardware can also cause enamel to come in prolonged contact with acid, which can dissolve its mineral content and open the door to tooth decay.
Clear aligners are an alternative to braces that can accomplish tooth movement while minimizing infection flare-ups for people with gum disease. Aligners are a series of customized clear plastic trays worn over the teeth, with each succeeding tray incrementally moving the teeth further than the preceding one. After wearing one tray for a specified time period, you then switch to the next tray. The teeth gradually move to the desired new position over the course of the aligner series.
This option is especially advantageous for gum disease patients because the trays can be removed temporarily for brushing and flossing. There are also other benefits: we can hide a missing tooth space with a temporary false tooth attached to the aligner; and, they're nearly invisible so it won't be obvious to others you're undergoing orthodontic treatment.
Not all orthodontic situations benefit from this alternative, while some cases may call for a combination approach between aligners and braces. But in the right setting, clear aligners are a good choice for not only obtaining better teeth position, but also helping you avoid a new encounter with dental disease.
If you would like more information on orthodontic treatments for adult teeth, please contact us or schedule an appointment for a consultation.
By More Smiles of Beverly
January 07, 2019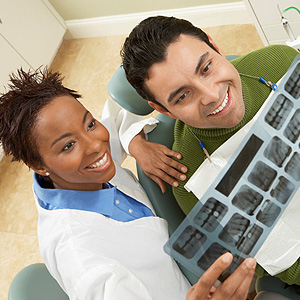 In the early Eighties, dentists began noticing symptoms among a few patients that indicated something far more serious. They were, in fact, among the first healthcare providers to recognize what we now know as HIV-AIDS.
Today, about 1.2 million Americans have contracted the Human Immunodeficiency Virus (HIV). It's a retrovirus, somewhat different than other viruses: it can invade immune system cells and hijack their replication mechanism to reproduce itself. Untreated it eventually destroys these cells to give rise to the more serious, life-threatening disease Acquired Immunodeficiency Syndrome (AIDS).
Thanks to antiretroviral drugs, most HIV positive patients live somewhat normal lives and avoid the more serious Acquired Immunodeficiency Syndrome (AIDS). But while antiretroviral therapy effectively inhibits the action of the virus, it isn't a cure — the virus is a permanent resident of the body and can still affect health, especially in the mouth.
In this regard, one of the more common conditions associated with HIV is Candidiasis, a fungal infection also known as thrush, which causes cracking of the mouth corners and lesions or white patches on the surface of the tongue or roof of the mouth. HIV patients may also experience limited saliva flow that causes dry mouth (xerostomia) with effects that range from bad breath to a higher risk of tooth decay.
The most serious effect, though, of HIV on oral health is the body's lower resistance to fight periodontal (gum) disease. HIV patients are especially susceptible to a severe form known as Necrotizing Ulcerative Periodontitis (NUP), a sign as well of immune system deterioration and the beginning of AIDS. This painful condition causes gum ulcerations, extensive bleeding, and the rapid deterioration of gum attachment to teeth.
If you or a family member is HIV positive, you'll need to pay close attention to oral health. Besides diligent brushing and flossing, you or they should also regularly visit the dentist. These visits not only provide diagnosis and treatment of dental problems, they're also an important monitoring point for gauging the extent of the HIV infection.
Taking care of dental problems will also ease some of the discomfort associated with HIV. Thanks to proper oral care, you or someone you love can experience a higher quality of life.
If you would like more information on oral and dental health for patients with HIV, please contact us or schedule an appointment for a consultation.