Posts for: June, 2020
By More Smiles of Beverly
June 20, 2020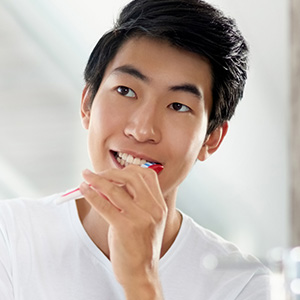 You already know the basics for healthy and attractive teeth and gums: brush and floss every day; and have your teeth cleaned and checked by a dentist every six months. But there are also some lesser known things you can do to improve what you're already doing—and some of them may go against popular wisdom.
Here then are 3 counter-intuitive tips for turbo-boosting your teeth and gum health.
Avoid brushing too hard and too often. While it may not seem like it, "The more, the better" isn't necessarily a good thing when it comes to brushing your teeth. Vigorous brushing several times a day could actually damage both your teeth enamel and your gums, eventually leading to problems like sensitive teeth. So, easy does it on the brushing pressure—let the mild abrasives in your toothpaste do the work removing disease-causing dental plaque. Likewise, avoid brushing more than twice a day.
Wait on brushing right after eating. If your first instinct right after a meal is to head to the sink to brush your teeth, curb your enthusiasm. Your enamel is actually in a slightly softened state right after eating and drinking because of an increase in mouth acid (especially if you've consumed sodas, sports drinks or juices). Saliva restores the mouth's pH balance and helps remineralize enamel in about an hour. If you brush before then, you could be sloughing off microscopic bits of enamel—an eventual problem if this is a regular habit.
Stop snack "grazing." If you're one of those that likes to munch on food throughout the day, you could be thwarting your overall efforts to maintain good dental health. Remember saliva? As mentioned, it effectively neutralizes acid in a few minutes. But continuous snacking maintains a constant high level of acid in the mouth—saliva has little chance to catch up. As a result, your mouth stays acidic, which can lead to higher risk of dental disease. If possible, limit your snacking to mealtimes.
These tips might be surprising, but they're based on sound science and research. Incorporating them into your regular, ongoing dental care, could increase your chances of healthy teeth and gums.
If you would like more information on how best to clean and care for your teeth, please contact us or schedule an appointment for a consultation. You can also learn more about this topic by reading the Dear Doctor magazine article "10 Tips for Daily Oral Care at Home."
By More Smiles of Beverly
June 10, 2020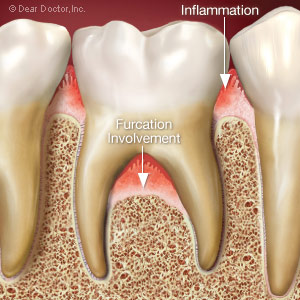 Periodontal (gum) disease often involves more than gum inflammation. The real danger is what this bacterial infection may be doing to tissues beneath the gum line—including tooth roots and supporting bone.
Gum disease can do extensive damage to the forked areas where the roots separate from the main tooth body. If one of these areas, known as a furcation, becomes infected, the associated bone may begin to diminish. And you may not even know it's happening.
Fortunately, we may be able to detect a furcation involvement using x-rays and tactile (touch) probing. The findings from our examination will not only verify a furcation involvement exists, but also how extensive it is according to a formal classification system that dentists use for planning further treatment.
A Class I involvement under this system signifies the beginning of bone loss, usually a slight groove in the bone. Class II signifies two or more millimeters of bone loss. Class III, also called a "through and through," represents bone loss that extends from one side of the root to the other.
The class of involvement will guide how we treat it. Obviously, the lower the class, the less extensive that treatment will be. That's why regular dental checkups or appointments at the first sign of gum problems are a must.
The first-line treatment for furcation involvements is much the same as for gum disease in general: We manually remove bacterial plaque, the main source of infection, from the root surfaces using hand instruments and ultrasonic equipment. This is often followed by localized antibiotics to further disinfect the area and stymie the further growth of the furcation involvement.
We also want to foster the regrowth of lost tissue, if at all possible. Classes II and III involvements may present a challenge in this regard, ultimately requiring grafting surgery to stimulate tissue regeneration.
The best approach by far is to prevent gum disease, the ultimate cause for a furcation involvement. You can reduce your chances of gum disease by brushing and flossing daily to remove disease-causing plaque. Regular dental cleanings and checkups, at least every six months, help round out this prevention strategy.
A furcation involvement could ultimately endanger a tooth's survival. We can stop that from happening—but we'll have to act promptly to achieve the best results.
If you would like more information on treating gum disease, please contact us or schedule an appointment for a consultation. You can also learn more about this topic by reading the Dear Doctor magazine article "What are Furcations?"