Posts for tag: Missing Teeth
By More Smiles of Beverly
August 05, 2019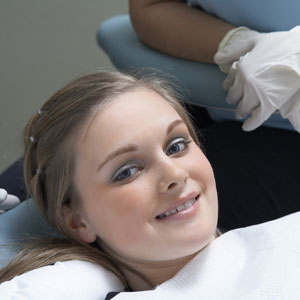 Dental implants are widely considered by both dentists and patients as the premier choice for replacing missing teeth. Unfortunately, implants aren't the appropriate choice for teenagers with missing teeth.
That's because their jaws won't fully finish most of their growth and development until early adulthood. An implant placed too early could become misaligned as the jaw matures. The best approach for a teenager is a temporary restoration until they're old enough for an implant.
There are a couple of good options. One is a removable partial denture (RPD), prosthetic (false) teeth set in an acrylic base that mimics gum tissue at the locations of the missing teeth. RPDs, which stay in place by way of metal clips that fit over other teeth, are easy to wear and maintain.
On the downside, an RPD can break if you bite into something too hard. They can lose their fit and may need to be replaced with a new one. And, some teens aren't quite keen on wearing a "denture."
Another option is a bonded or Maryland bridge, a kind of fixed bridge. We bond dental material to the back of a prosthetic tooth with portions of the material extending out from either side of it.  We then bond these extending tabs to the back of the teeth on either side of the prosthetic tooth to hold it in place. Unlike traditional bridges, we can eventually remove it without any permanent alterations to the teeth it's attached to.
Before we undertake a bonded bridge, though, we must make sure the gums and bone of the surrounding teeth are free from periodontal (gum) disease and are healthy and strong enough to support the bridge. We also need to be sure the patient doesn't have a deep bite or a teeth grinding habit, which could cause the teeth to make contact with the tabs and break them.
The patient also needs the maturity to responsibly perform diligent oral hygiene: this type of bridge has a tendency to build up disease-causing plaque, so brushing twice and flossing once every day is critical. Not doing so increases the risk of tooth decay or periodontal (gum) disease, which could complicate a future implant.
We can discuss these options after a thorough dental examination of your teenager. Either way, we'll be able to restore your teen's smile until we can undertake a more permanent restoration.
If you would like more information on tooth replacement options for teenagers, please contact us or schedule an appointment for a consultation.
By More Smiles of Beverly
September 25, 2018
Find out everything you need to know about this artificial tooth replacement.
Are you currently dealing with tooth loss and wondering if dental implants are the right treatment option for you? If so, then chances are good that you have questions about this restoration. Our Chicago, IL dentist Dr. Ademola Adekola Jr., is here to answer all of your most popular questions regarding this popular tooth replacement option.
Q. What are dental implants?
A. These small metal posts, often made from titanium, function exactly like tooth roots. In order to do this, our Chicago dentist will need to place the implants within the jawbone.
Q. How do implants work?
A. We will have to map out where the implant will need to be placed within the jawbone. This simple procedure is performed right here in our office.
Once the implant is placed we will give the implant time to bond. During this healing period, which can take several months, a naturally occurring phenomenon known as osseointegration occurs. This is when the jawbone and implant fuse together to become one. This is what makes implants different from other tooth replacements such as bridges or dentures, which do not meld together with oral tissue or bone.
Q. How long does the implant process take?
A. This will depend on which tooth you are replacing and how many teeth you need to replace. The healing process can take anywhere from 3-6 months. Once the implant has bonded we can attach the dental crown over the implant.
Q. How long do dental implants last?
A. One of the major benefits of getting implants is their longevity. This is because the implant is made from titanium, which is extremely durable and biocompatible with the jawbone and tissue in your mouth. If you maintain good oral health, your implants could last you the rest of your life.
Q. Who is a good candidate for implants?
A. If you are a healthy adult who is missing one or more teeth then you could be an ideal candidate for implants. To find out if implants are right for you turn to our Chicago dentist to learn more.
Do dental implants sound like the treatment you've been looking for to get that full smile again? If so, then turn to More Smiles of Beverly in Chicago, IL to schedule your consultation. We will have you smiling again thanks to dental implants.