Posts for tag: cosmetic dentistry
By More Smiles of Beverly
May 01, 2020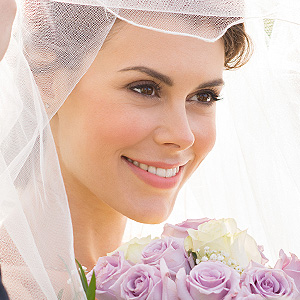 Congratulations—you're engaged! It's a stupendous (and hectic) time in your life as you plan your upcoming wedding.
You want to look your best for the big day—which means you may be dieting, exercising or making changes to your hairstyle and makeup. Be sure, though, to consider another important part of your appearance—your teeth and gums. Here are a few options that could help your wedding day smile shine even more.
Cleanings and whitening. While dental cleanings are primarily about removing disease-causing plaque and tartar they can also give your teeth that clean and polished look. And if you want an extra boost in brightness, consider whitening—we may be able to lighten up your teeth's stain-induced dullness.
Bonding. If your teeth have slight imperfections—chipping, slight gaps or staining that doesn't respond well to whitening, consider bonding techniques to repair or cover these defects. Composite resin is a dental material that can be shaped and bonded to teeth to reform a deformed tooth—and with color matching as well. For more extensive defects you can cover the front of imperfect teeth with bonded porcelain veneers or completely cap a tooth with a custom crown.
Tooth restorations. If you have missing teeth marring your smile, you have several options. The top choice: dental implants, which replaces the root of the tooth and will be able to have a crown attached to it. An implant can thus restore both better function and appearance. For more affordable options, you can also turn to fixed bridges or removable dentures. The latter can be custom designed to replace all the teeth on a jaw arch or just a few in different locations.
Gum enhancements. Teeth aren't the only part of your smile that might need a helpful touch—your gums' appearance might also be a problem. There are cosmetic procedures including plastic surgery and tissue grafting that can help correct overly prominent "gummy" smiles or, at the other end of the spectrum, longer appearing teeth because of gum recession.
Orthodontics. If you have extended time before the wedding date, we may be able to correct crooked teeth or a poor bite (malocclusion) that's adversely impacting your smile. In some cases, you may be able to choose clear aligners, removable plastic trays that are hardly noticeable to others, over more visible braces to correct your bite.
If you would like more information on cosmetic dentistry for lifetime events, please contact us or schedule an appointment for a consultation.
By More Smiles of Beverly
September 25, 2018
Find out everything you need to know about this artificial tooth replacement.
Are you currently dealing with tooth loss and wondering if dental implants are the right treatment option for you? If so, then chances are good that you have questions about this restoration. Our Chicago, IL dentist Dr. Ademola Adekola Jr., is here to answer all of your most popular questions regarding this popular tooth replacement option.
Q. What are dental implants?
A. These small metal posts, often made from titanium, function exactly like tooth roots. In order to do this, our Chicago dentist will need to place the implants within the jawbone.
Q. How do implants work?
A. We will have to map out where the implant will need to be placed within the jawbone. This simple procedure is performed right here in our office.
Once the implant is placed we will give the implant time to bond. During this healing period, which can take several months, a naturally occurring phenomenon known as osseointegration occurs. This is when the jawbone and implant fuse together to become one. This is what makes implants different from other tooth replacements such as bridges or dentures, which do not meld together with oral tissue or bone.
Q. How long does the implant process take?
A. This will depend on which tooth you are replacing and how many teeth you need to replace. The healing process can take anywhere from 3-6 months. Once the implant has bonded we can attach the dental crown over the implant.
Q. How long do dental implants last?
A. One of the major benefits of getting implants is their longevity. This is because the implant is made from titanium, which is extremely durable and biocompatible with the jawbone and tissue in your mouth. If you maintain good oral health, your implants could last you the rest of your life.
Q. Who is a good candidate for implants?
A. If you are a healthy adult who is missing one or more teeth then you could be an ideal candidate for implants. To find out if implants are right for you turn to our Chicago dentist to learn more.
Do dental implants sound like the treatment you've been looking for to get that full smile again? If so, then turn to More Smiles of Beverly in Chicago, IL to schedule your consultation. We will have you smiling again thanks to dental implants.
By More Smiles of Beverly
March 19, 2018
If you have ever looked in the mirror and wished that your teeth looked different, you are not alone. Studies have shown that damaged or
discolored teeth are the facial feature that most people would improve or change if given the chance. Although many people admit to being unhappy with their teeth, there has never been a better time to invest in a smile makeover. Dr. Ademola Adekola, a dentist in Chicago, IL, recommends dental veneers for their affordability and versatility.
Get a Smile Makeover with Dental Veneers in Chicago, IL
Dental veneers are one of the most effective ways to correct common cosmetic dental issues like stains and discolorations, and to improve and change the size, shape, and color of your teeth. And despite the fact that they are minimally invasive, fast and affordable, they are highly durable and can last for up to a decade with good oral hygiene and dental care, often longer.
Who Should Get Veneers?
Veneers are a good option for anyone with cosmetic damage like chips and cracks, stains and discolorations, uneven teeth or spacing and mild alignment issues (significant bite and alignment problems may require orthodontic treatment). But you don't have to chip or break a tooth to invest in your smile with veneers.
Many people are unhappy with the natural shape or size of some or all of their teeth, and veneers are an easy and accessible way to get the smile you want without making major changes or investing in significant dental work.
In addition to improving how your teeth look, getting veneers can have other benefits such as improving your confidence and self-esteem, and even making you look a few years younger in many cases.
Find a Dentist in Chicago, IL
If you are ready for a brighter, healthier and more attractive smile, contact More Smiles of Beverly by calling (773) 980-8900 to schedule an appointment with Dr. Adekola today.