Posts for tag: orthodontics
By More Smiles of Beverly
January 17, 2019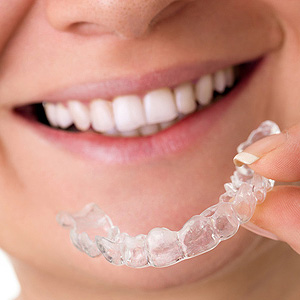 Wearing braces isn't just for teenagers — straightening teeth can be just as viable a need when you're an adult. For example, it may be necessary to first move teeth away from an empty tooth socket before you obtain a dental implant or other restoration.
But braces could have complications, especially if you have periodontal (gum) disease. These infections caused by plaque, a thin film of bacteria and food particles, inflame and weaken gum tissues and erode supporting bone. It can be treated and brought under control — but keeping it under control requires daily brushing and flossing, along with frequent office cleanings and checkups.
Braces can make this more difficult: it's harder to brush and floss effectively through the hardware of brackets and wires, which can give plaque a chance to build up. Patients susceptible to gum disease are more likely to have re-infections while wearing braces. The hardware can also cause enamel to come in prolonged contact with acid, which can dissolve its mineral content and open the door to tooth decay.
Clear aligners are an alternative to braces that can accomplish tooth movement while minimizing infection flare-ups for people with gum disease. Aligners are a series of customized clear plastic trays worn over the teeth, with each succeeding tray incrementally moving the teeth further than the preceding one. After wearing one tray for a specified time period, you then switch to the next tray. The teeth gradually move to the desired new position over the course of the aligner series.
This option is especially advantageous for gum disease patients because the trays can be removed temporarily for brushing and flossing. There are also other benefits: we can hide a missing tooth space with a temporary false tooth attached to the aligner; and, they're nearly invisible so it won't be obvious to others you're undergoing orthodontic treatment.
Not all orthodontic situations benefit from this alternative, while some cases may call for a combination approach between aligners and braces. But in the right setting, clear aligners are a good choice for not only obtaining better teeth position, but also helping you avoid a new encounter with dental disease.
If you would like more information on orthodontic treatments for adult teeth, please contact us or schedule an appointment for a consultation.
By More Smiles of Beverly
May 09, 2018
Are you reluctant to have your orthodontic problems resolved because you want to avoid wearing conspicuous metallic brackets and
wires? If so, a dentist at More Smiles of Beverly in Chicago, IL, might be able to straighten your smile and improve its appearance discreetly using Invisalign braces instead. One Invisalign consultation could be the beginning of a whole smile makeover.

Why You Want to "Get Things Straight" with Your Smile
There are both cosmetic and functional reasons why you would want to straighten out teeth that are crowded, misaligned, and crooked. These common smile imperfections are easy to notice—people often have a tendency to look at your mouth when you talk, which can be distracting and demotivating if there are cosmetic issues. Also, when there are gaps due to small or misaligned teeth, it can also cause problems with food getting stuck between the teeth.

Invisalign: The Discreet Choice
Many patients avoid necessary orthodontic treatment because they are afraid of having to wear metal braces. A discreet option is not only preferable but required if you have a very busy lifestyle. If concerns about your appearance have caused you to avoid straightening out your smile, talk to your Chicago dentist about Invisalign. The treatment requires the use of custom-made plastic clear braces that you must wear for the majority of your day. Besides being discreet, Invisalign also allows you the comfort of being able to brush, floss, and eat normally.

Word to the Wise: Wear Your Retainer
When your smile is straightened out, you'll have to do maintenance to keep the new position of your teeth. So, after you've gone through the Invisalign treatment period, which can take anywhere from six to 12 months, it's important to wear your retainer every night thereafter. Though your teeth are now in an optimal position, there's always a chance for them to shift back. The retainer will help maintain the appearance of your new smile.

Go in for a Consultation
At your initial orthodontic consultation, your dentist will help you determine if Invisalign will be your best bet. Call (773) 980-8900 today to schedule your visit with Dr. Ademola Adekola Jr. at More Smiles of Beverly in Chicago, IL.